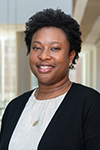 Eberechukwu Onukwugha, MS, PhD
Associate Professor
Department of Pharmaceutical Health Services Research
Saratoga Building, Room 208
Tel: 410-706-8981
Fax: 410-706-5394
Email: eonukwug@rx.umaryland.edu
About Dr. Onukwugha:
Dr. Onukwugha's research interests are in cost-effectiveness analysis, health disparities, and medical decision-making by individuals.  Her research on the costs and causes of discharges against medical advice was supported by a K12 grant (Alan Shuldiner, Principal Investigator, NIH 1K12RR023250-01).  She examines the costs and outcomes associated with transitional care, medication use, and hospital discharge disposition.  Dr. Onukwugha received her PhD in Economics from Virginia Tech. She completed a Post-Doctoral Fellowship in Pharmacoeconomics at the University of Maryland and was the recipient of the 2005 Post-Doctoral Fellowship in Health Outcomes from the Pharmaceutical Research and Manufacturers of America (PhRMA) Foundation.